UDC/Intl/UKC CH Cross the Rubicon dob Mann
RN, CD, WAC, VCX, UDC CD, ATT, TT, TDI, HIC, CGC
"Gaia"
---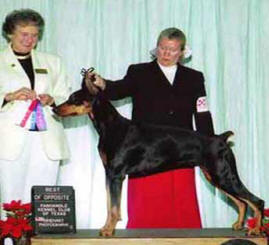 1. OFA hips good
2. vWd Carrier
3. Cardio normal
4. Thyroid normal
5. CERF normal
6. Full and proper dentition.
Gaia's conformation
Gaia's pedigree
1st Point
Gaia qualified for her International CH in 3 straight shows and is a Group placer from the classes.
She passed her WAC at the 2002 DPCA National at only 18 months.
Gaia finished her UDC CH in February.