BISS Am/Intl/UDC/UKC
CH. Talent's Classic
CDX, ROM, OB2, RN, R2MCL, D-FFB E1A, UDC/UKC CD,
ASCA CDX, VCX, BH, AD, TDI, ATT, TT, HIC, CGC
"Athena"
---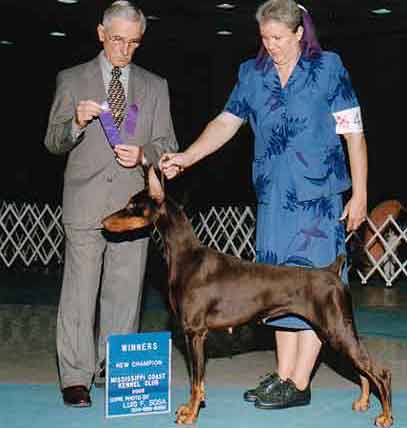 1. vwd carrier
2. thyroid normal
3. cardio normal
4. CERF normal
5. Full and proper dentition
6. OFA Hips Good, Elbows Normal
Athena's conformation
Athena's performance
Athena's pedigree
Athena finished her championship at 16 months, and became a ROM at 20 months. She is also the youngest United Doberman Club VCX ever (Versatile Companion Excellent) at 20 months as well.
She earned her CD title at 20 months.

A Best in Show Specialty (BISS) winner over Top Twenty specials at 8 months, Athena was handled to her championship by Teresa Nail.

Athena is a 7 time Best in Sweepstakes winner. She and her littermate Jetta helped their dam Brigit win the Brood Bitch class at the 2003 DPCA National. .

Athena and her daughter 'Jaipur' won Best Brace in Show at the IABCA International Dog Show in January 2004 and in January 2005.

She earned her CDX in 3 straight shows the first week-end in January 2005, the Rally Novice Title in March and the Rally Advanced title in April. She is now working on her UD.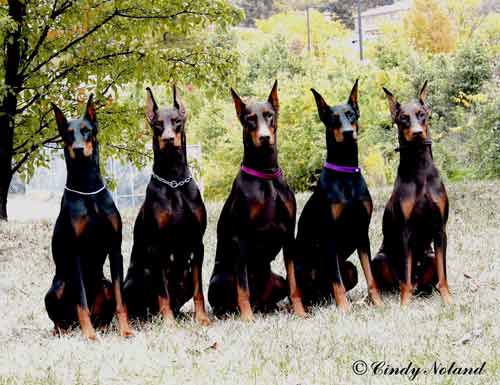 Athena's Family